The Keeper of Hands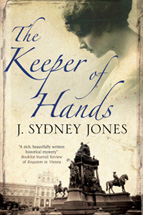 Vienna, 1901. With the police seemingly indifferent to the murder of a 19-year-old prostitute known as Mitzi, brothel-keeper Frau Mutzenbacher turns to lawyer Karl Werthen to find out what happened and bring her killer to justice. Yet the more he discovers about the mysterious Mitzi, with her secret past and impressive roster of clients, the more questions Werthen's investigation throws up.
At the same time, Werthen undertakes a second commission: to find out who viciously assaulted playwright Arthur Schnitzler. Schnitzler believes his latest controversial play might have been the motive for the attack - but is there more to it than that?
As he navigates the highs and lows of Viennese society in dogged pursuit of the truth, Werthen finds himself drawn into a conspiracy of espionage and affairs of state.

Read an excerpt

Reviews
— *starred review from Publishers Weekly (May 13, 2013)


"The discovery of the nude and strangled corpse of a 19-year-old prostitute known as Mitzi propels Jones's masterful fourth mystery set in early-20th-century Vienna (after 2011's The Silence). Josephine Mutzenbacher, Mitzi's madam, hires Hans Gross, the real-life pioneering criminologist, and Karl Werthen, a private enquiry agent and lawyer, to investigate. Werthen's discovery of a letter that Mitzi wrote in code and hid in a Bible—specifically in the part of the Book of Joshua that refers to the harlot Rahab concealing Israelite spies—suggests that the victim may also have been involved in the world's second-oldest profession. Another woman's murder raises the stakes. Werthen and Gross's inquiries come to the notice of Archduke Franz Ferdinand, whose revelations about conflict between the country's different intelligence services add another dimension to the case. Top-notch detecting and characterizations bolster the intricate plot. Agent: John Talbot, Talbot Fortune Agency."


—David Pitt, Booklist (May 1, 2013)


"The fourth in the Viennese Mysteries series—set in Vienna around the turn of the twentieth century—finds lawyer and private investigator Karl Werthen trying to unmask the murderer of a prostitute. But what appears to be a straightforward search for a killer becomes progressively more complicated as Werthen keeps discovering new mysteries about the victim. Meanwhile, playwright Arthur Schnitzler—who, like supporting players in previous books in the series, is a real-life character—has been viciously beaten, and Werthen wonders whether it was because of Schnitzler's recent literary work or his connection to the murdered prostitute. As much an exploration of prewar Vienna as it is a mystery yarn, the book is full of striking visual imagery that helps conjure up the landsdcape ("A massive potted palm stood in a brass pot near the floor-to-ceiling windows, through which he could just make out the spire of the Votivkirche"). Perhaps not as widely known as it ought to be, this series is well worth a look."


— Kirkus Reviews (July 15, 2013)


Police indifference and the surprising history of the victim entice a Vienna lawyer in his attempt to solve a murder.

In turn-of-the-century Vienna, Advokat Karl Werthen gets a visit from theater critic Felix Salten, in the days before he wrote Bambi, with an unusual request. Acting as the intermediary for Frau Josephine Mutzenbacher, a successful madam whose memoirs he's penning, Salten asks Werthen to investigate the strangulation of Mitzi, a young prostitute who played the role of a young virgin at the brothel. The lawyer accepts the challenge, but because of the reluctance of everyone involved to speak openly and the need for discretion, his investigation proceeds slowly. Mitzi's past is a well-guarded secret, and Werthen gets little traction until he tracks down her parents, Herr and Frau Moos, who at first deny that they even know her. Between interviews, Werthen shares judiciously edited accounts of his work with his wife, Berthe, who's recently given him a beautiful daughter, Frieda. Even with so much to treasure at home, Werthen readily accepts another interesting assignment at the request of his former mentor, the criminologist Doktor Gross. Shortly after Werthen interviews Arthur Schnitzler in connection with Mitzi's killing, someone brutally attacks the physician and controversial playwright. Though Schnitzler assumes the attack was prompted by his most recent play, Werthen's not so sure. Just when he feels he's making headway, Frau Mutzenbacher wants to terminate the investigation. What next?

In Werthen's fourth case (The Silence, 2011, etc.), Jones recreates the beau monde of vintage Vienna with verisimilitude and consummate style.


—Teresa L. Jacobsen, Library Journal (July 12, 2013)


Two radically different cases challenge Viennese lawyer Karl Werthen in this intriguing historical series. It is the fourth case (after The Silence) for the fictional Werthen who consults with the real Dr. Hans Gross, considered to be the father of criminal investigation.


—David Marshall, Thinking about Books (May 27, 2013)


The Keeper of Hands by J Sydney Jones (Severn House, 2013) A Viennese Mysteries Novel is the fourth in the series featuring Advokat Karl Werthen who's disconcerted to learn his father may be acquiring a house close to his in the countryside around Vienna. Distracting him, he's indirectly approached by Frau Josephine Mutzenbacher to investigate the murder of one of the prostitutes working in her justly famous high-class brothel. The young woman who looked thirteen to appeal to clients of that persuasion has been murdered, her body found in a nearby park. Having talked with the Madame, her brother and the girl who shared a bedroom with the victim, our hero sets off to track down Peter Altenberg, a man he's recognised as one of the victim's clients, an eccentric by virtue of his class (if he'd been poor, he might have been considered insane). From him, the trail of breadcrumbs leads to Arthur Schnitzler, the writer and playwright who may have upset some of the military with his latest play. He's recovering from a beating and begs our hero to add the identification of his attacker to his list of things to do. It's therefore fortuitous that Doktor Hanns Gross is free to offer a helping hand and the benefit of his experience as a criminologist. Then along comes Frau von Suttner. Our hero's reputation as an investigator is suddenly bringing him more work than he can comfortably fit into his lifestyle so his wife and secretary take on that task. Then the investigators uncover a connection between the dead prostitute and Count von Ebersdorf who, by coincidence is also recently dead: of food poisoning. He was something "sketchy" in the government, i.e. a spy.

Fin-de-sičcle Vienna has always been considered central in the manoeuverings between power blocks. This reflects both its geographical location and its cultural and political importance. The rise of Modernism in the latter part of the nineteenth century produced a crisis for liberalism and laid the foundations for the Europe we know today through the work of great minds like Freud, Arthur Schnitzler, Gustav Mahler, and others. It was a city which produced extremes of optimism and pessimism — a society in flux and, more often than not, resigned to failure, a fact seen in its virulent anti-Semitism and the political disputes between the different nationalities that came together in the city. Spying was a way of life.

From this introduction, you will realise this book is like Vienna, i.e. it sits on the fault lines between different genres. It is, in the same breath, a murder mystery, a conventional thriller, an espionage thriller with political overtones, and a historical novel. As a picture of a city in times gone by, this is a remarkable technical achievement. Too often authors are tempted to show off their knowledge of the place and its history. Just think of all the hours of research that go into writing books like this and admire the self-discipline of the author in interweaving just enough to give us the flavour of the place without submerging us with detail. Then as to the shape of mystery itself, we start off along the conventional line of following the progress of the investigation into the murder of the prostitute, looking over the shoulders of the investigation team as it pushes forward. Then we divide the point of view and see the scene from the other side of the fence. With the context for the murder(s) starting to come into view, we have the pleasure of watching all the disparate elements coming together in a most elegantly constructed plot.

The title is a reference to the barbaric practice of cutting off the hands of slaves who were less than active in their work. Since those responsible for enforcing discipline were only paid by results, a designated officer had to keep the hands and dispense payment when it fell due. In this novel it's a reference to the signature for our serial killer. All of which leaves me full of praise for The Keeper of Hands. It contrives to be a historical novel with surprisingly modern resonances in the current rivalry between the branches of different intelligence services. It's a winner!


The Silence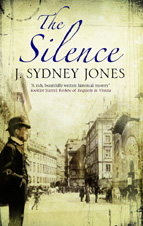 Vienna, 1900. Lawyer and private inquiries agent Karl Werthen is puzzling over the high-profile suicide of a city councilman--former client, next in line to Vienna's powerful Mayor Karl Lueger, and the last man Werthen would think capable of suicide. Werthen, however, has little time to ponder, as he is summoned by wealthy industrialist Karl Wittgenstein (father of the future philosopher Ludwig) to find his oldest son, Hans, who has gone missing.
Werthen soon discovers the whereabouts of the musically-minded Hans, and the case appears to be solved. But appearances are deceiving, and a simple missing person's case soon leads back to the councilman's suicide. Werthen—once again ably assisted by his wife, Berthe, and real-life father of criminology, Dr. Hanns Gross—journeys into a sinister web of deceit and violence that threatens not only his life, but also the very heart of the city and the empire.

Read an excerpt

Reviews
—Teresa L. Jacobsen, *starred review from Library Journal (January, 2012)


"Ultimately, this fin de sičcle mystery is all very Sherlock Holmes. Populated with such real-life luminaries as artist Gustav Klimt, Jones's third historical series title (after The Empty Mirror) is an intricately plotted, gracefully written, and totally immersive read. Recommended for Stefanie Pintoff, Laurie R. King, and Philip Gooden fans."


*Starred review from Publishers Weekly (November 14, 2011)

"Jones vividly evokes 1900 Vienna under the leadership of its notorious anti-Semitic mayor, Karl Lueger, in his splendid third whodunit featuring attorney Karl Werthen and criminologist Hanns Gross .... Jones poses a challenging puzzle for his savvy investigator while subtly portraying the growing threat to Europe's Jew."


— Kirkus Reviews (February 1, 2012)

"Jones' measured, stately prose is perfectly in tune with his period setting and his hero's intense intellectual curiosity.... His intricate plot unfolds with suspense and style."

—Haaretz (Jerusalem) (April, 2012)

"[A] marvelous novel....Werthen and his sidekick, the medical examiner Doktor Hanns Gross, are a Viennese Holmes and Watson. It's hard to imagine a novel of anti-Semitism and crime being cozy, but Jones creates a warmth between Werthen and Gross that's very much in the fireside-snug Baker Street style."

Online Reviews:
Editors' Choice !

—Phyllis T. Smith, Historical Novel Society (February, 2012)

"[An] excellent mystery, ... With artful writing, the author has brought this time and place to life. He has also created a vivid cast of characters and devised a plot that never lags. I was engrossed by this novel and highly recommend it." Read more


—Christine Zibas, Reviewing the Evidence (April, 2012)

"The book is the equal of the first two in the series, and readers who are taken with Advokat Werthen and his extended coterie of friends, family, and colleagues will be anxiously awaiting the next installment to see just where author J Sydney Jones will lead them next." Read more


Requiem in Vienna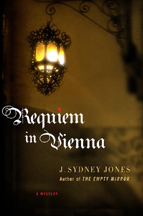 Set during the peak of Vienna's cultural renaissance and featuring some of the city's most colorful residents, including Gustav Mahler, Requiem in Vienna is perfect historical fiction – rich description, vivid characters, and a mystery that will leave readers guessing till the very last moment.
At first it seemed like a series of accidents plagued Vienna's Court Opera. But after a singer is killed during rehearsals of a new production, the evidence suggests something much more dangerous. Someone is trying to murder the famed conductor and composer&nbspGustav Mahler. Worse, Mahler might not be the first musical genius to be dispatched by this unknown killer.
Alma Schindler, one of Mahler's many would-be mistresses, asks the lawyer and aspiring private investigator Karl Werthen to stop the attacks. With the help of his new wife, Berthe and his old friend, the ground-breaking criminologist Hans Gross, Werthen delves into Vienna's rich society of musicians to discover the identity of the person who has targeted one of Austria's best-known artists. Soon Werthen discovers that Mahler might not be the first musical genius to be dispatched by this unknown killer. With the recent deaths of Johann Strauss and Johannes Brahms, the investigators fear a madman is killing the great musicians of Vienna.

Read an excerpt

Reviews
*Starred Kirkus Reviews (November 1, 2009)

"What dastard is trying to kill the great Gustav Mahler?
Singers call Vienna's new Court Opera Director "the drill sergeant," an unflattering title certainly influenced by a streak of anti-Semitism directed against the Jewish Mahler. In May 1899, a rehearsal of Wagner's Lohengrin takes a tragic turn when an asbestos fire curtain falls and kills soprano Margarethe Kaspar. In light of several recent accidents at the theater, it looks as if someone has it in for the new director. Beautiful, ambitious Alma Schindler, who will be known to readers familiar with classical-music history, hires lawyer and sometime sleuth Karl Werthen (The Empty Mirror, 2009) to investigate, which seems to confirm the local gossip delivered to Werthen by his friend, painter Gustav Klimt, that the lady has set her romantic sights on Mahler. In light of Alma's aggressive feminine charms, Werthen's soulmate and wife Berthe is even more conscientious than usual in assisting him in his investigation. Pioneering criminologist Dr. Hanns Gross, another real-life character, returns from self-imposed exile to help his old friend Werthen as well. There's no dearth of suspects, including perhaps Mahler himself (Margarethe was becoming an inconvenient mistress). So it's no surprise that Werthen and Gross uncover layers upon layers of machinations and betrayals in the microcosm of the opera house.
Confident prose and mastery of historical detail, woven into a convincing narrative, make this sophisticated entertainment of a very high caliber."


—David Pitt, *Starred review from Booklist (December 1, 2009)

"A young woman hires a lawyer to find out who's trying to kill the man she loves. At first the lawyer is skeptical, but soon he realizes that certain suspicious incidents have only one explanation: murder. But who's the would-be culprit, and can he be stopped before he finally succeeds? Sounds like a pretty ordinary thriller, except that it's set in 1899 Vienna, and the villain's target is Gustav Mahler, the noted Austrian composer and conductor. Lawyer and investigator Karl Werthen, the hero of 2009's The Empty Mirror, teams up with criminologist Hans Gross to find out whether there might be an evil plot afoot: with the recent deaths of Strauss and Brahms, it looks like someone might be systematically killing off Vienna's musical geniuses. This is a rich, beautifully written historical mystery, with a unique setting and a compelling lead. The author's use of real people—Mahler, Gross, and painter Gustav Klimt among them—gives the book the feel of actual history, and his careful re-creation of the Viennese setting transports us to the place and time. A first-class historical mystery that builds on the promise of its predecessor."


Publishers Weekly (November 16, 2009)

"Set in 1899, Jones's fine second Viennese mystery (after 2009's The Empty Mirror) opens with a falling fire curtain narrowly missing Gustav Mahler, the director of the Vienna Court Opera, but killing a soprano during a stage rehearsal. Lawyer and private inquirer Karl Werthen teams with criminologist Hanns Gross to look into this and subsequent "accidents" apparently aimed at Mahler. As the investigation descends into the "damned politics of music," Mahler, a former Jew who must be careful to hide his contempt for fellow composer Richard Wagner, emerges as the nexus for an "ever-widening pool of suspects." Complicating matters are big changes in Werthen's home life, in particular wife Berthe's pregnancy. Jones, the author of Hitler in Vienna, 1907–1913 and other nonfiction books about the city, smoothly blends a compelling period whodunit with bountiful cultural and social details."


—Jay Strafford, Richmond Times-Dispatch (February 2, 2010)

"Requiem in Vienna is pitch perfect, with an intriguing plot, interesting characters and a wealth of Viennese color — including the rampant anti-Semitism that for so long marred Vienna's culture. And the musical lore is worthy of note, too, as Mahler and his world are recalled to life."

Online Reviews:
Editors' Choice !
Historical Novel Society (February 2010)

"Jones ... brings late 19th-century Vienna—its opera house, cafes, and food—brilliantly to life." Read more


Romantic Times Book Reviews

"This Viennese mystery, set in 1899, is a wonderful series second. Jones' descriptions of this particular time are mesmerizing, the characters are appealing and the mystery is a good old-fashioned whodunit. Anyone who enjoys a history lesson mixed in with some cold-blooded murder will find plenty that appeals." Read more


Mystery Gazette

"Requiem in Vienna is a superb historical mystery that uses the terrific private investigation as a springboard to present life in Vienna at the turn of the last century." Read more


Reviewing the Evidence

"Jones creates a complete and fascinating world for readers, and leaves them wishing for more." Read more


The Thriller Guy

"The amount of fabulous information on the period, the place, and the long list of fascinating characters makes this a series that is the equal of anyone working the historical thriller venue today." Read more


HistoricalNovels.info

"The star of the show is the music world of fin-de-siècle Vienna, its passions, its jealousies, its backbiting critics and its all-too-human musicians." Read more


Good Times

"Anyone that revels in a good bit of historical fiction will find the whodunit Requiem in Vienna a page-turning delight." Read more


Green Man Review

"The historical background [is] the standout elements in this series." Read more


S. Krishna's Books

"J. Sydney Jones once again takes us back to Vienna at the turn of the century. His descriptions are vivid and incredibly detailed. He does a wonderful job making the reader feel like they are in Vienna, with all the sights, smells, and sounds coming to life in the reader's mind. ... [of] making these characters bright and vivid – historical fiction at its finest." Read more


BookLoons

"Historial mystery fans will revel in Requiem in Vienna, an engaging musical mystery that builds to a crescendo of a conclusion in which Karl Werthen races against time to prevent an explosive finale. " Read more


Cheryl's Book Nook

"True mystery fans will fall in love with this book." Read more


Mysterious Reviews

"The best historical mysteries strike a good balance between the history and the mystery. Here, Jones deftly and successfully combines the two in Requiem in Vienna, offering biographical information on Wagner, Brahms, Strauss and others together with background information on the aristocracy of late 19th century Vienna in a solidly plotted whodunit-style mystery story." Read more

Top

The Empty Mirror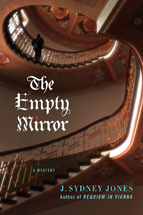 Fin-de-siecle Vienna comes to life in this colorful historical thriller featuring the artist Gustav Klimt
It's the summer of 1898 and Austria is transfixed by a series of brutal murders. When renowned painter Gustav Klimt's female model becomes the fifth victim, the artist is fingered as the culprit. Klimt's lawyer, Werthen and his friend, the famed criminologist Inspector Gross must delve into a nationwide conspiracy in order to acquit the unusual and unpredictable artiste. With an unmatched knowledge of Vienna's history, culture, and politics, J. Sydney Jones introduces a gripping new mystery series set in a cosmopolitan city at the height of its artistic and social importance.


Read an excerpt

Reviews
*Starred Publishers Weekly review (January, 2009)

"Set in Vienna in 1898, Jones's absorbing whodunit succeeds both as a mystery and as a fascinating portrait of a traditional society in ferment. When artist Gustav Klimt becomes a suspect in a series of bizarre murders, he turns for help to his lawyer friend, Karl Werthen, who joins forces with real-life pioneering criminologist Hanns Gross. Werthen and Gross follow a trail that leads through all strata of Viennese society and threatens to put them at odds with not only a trained killer but powerful members of the ruling class. Jones skillfully incorporates into his narrative many of the notable figures who lived in Vienna at the time. Some, like Klimt and sexologist Richard Freiherr von Krafft-Ebing, play important roles, while others, like Zionist founder Theodor Herzl and visiting American author Mark Twain, make brief but highly appropriate appearances. Jones (Time of the Wolf) delivers a meaty historical that bodes well for further adventures."


—Patrick Anderson, review in Washington Post (January 19, 2009)

"Jones keeps his mystery moving along with a good deal of skill, but the greatest interest of the novel lies in its glimpses of the political passions and bizarre occurrences of the era.... In recent years, fin-de-siecle Vienna has shown signs of becoming to literary thrillers what 1940s Los Angeles is to noir. The Empty Mirror, a colorful story that neatly combines fact and fiction, suggests why." Read more


—Jay Strafford, review in Richmond Times-Dispatch

It begins as a serial-killer tale, ends as a political thriller and is informed by the history and culture of fin-de-siecle Vienna.… J. Sydney Jones' The Empty Mirror … is the first of a promising new series that mixes fictional characters with historical ones -- to the plot's great advantage.… The author also sprinkles other historical Austrians into this compelling novel, including psychiatrists Sigmund Freud and Richard von Krafft-Ebing, and the result is a treat. And his characterization of Werthen -- an assimilated Jew who chafes at his parents' well-intentioned meddling into his personal life and his career -- is absorbing. Jones, who lived in Vienna for almost 20 years, deftly melds fact with fiction in a novel that will appeal to mystery aficionados as well as history buffs."

—From Kirkus Reviews

"A well-appointed period mystery with interesting roman a clef notes...appealing."


—From Booklist

"Jones' novel boasts well-fleshed characters, a good sense of place, and solid plotting--all signs of series potential. This one bears watching."


—Noah Charney, author of The Art Thief

"An intriguing, dark novel woven round historical facts and figures, set in the lush, breathing labyrinth of Klimt's Vienna."


—Karen Harper, New York Times bestselling author of The Queen Elizabeth Mystery series

"What Sir Arthur Conan Doyle did for Victorian London and Caleb Carr did for old New York, J. Sydney Jones does for historic Vienna.... The Empty Mirror is a new classic mystery for discerning readers."


—Michael Gregorio, author of Critique of Criminal Reason

"A rollicking rollercoaster ride through Vienna's Prater Park complete with mysterious murders, a carload of famous names, and a pair of detectives who know enough about Viennese pastries to make your mouth water. History and fiction cleverly combined by a master storyteller."


—Bruce Tierney, review in BookPage

"J. Sydney Jones breathes life into turn-of-the-century Vienna in his stylish and atmospheric The Empty Mirror.... If you like the style and convoluted plotting of say, Conan Doyle, but with a modern sensibility, The Empty Mirror should be right up your alley." Read more


—Muriel Dobbin,review in Washington Times

"Mr. Jones' expertise on the city makes his book almost a travelogue, as he embellishes dramatic scenes with informed commentary on historical developments and local landmarks...This would be the ideal book to take on a trip to Vienna." Read more


Online Reviews:
Genre Go Round Reviews
Good Times Santa Cruz
Curled Up with a Good Book
The Page 69 Test
BookLoons
New Mystery Reader
Reviewing The Evidencenc.com
The Mystery Reader


Top